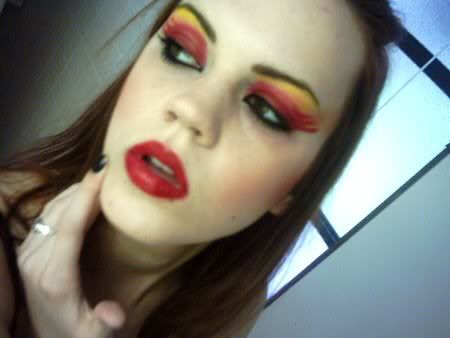 foundation- Maybelline "Instant age rewind" in Porcelain Ivory
powder- i used a translucent powder, but anything that matches your skin tone will work.
eye brow pencil- i use Rimmel's "Hazel", but use anything that matches your eyebrow (or not, your choice there!)
eyeshadow>- MAC's "Chrome Yellow", MAC's "D'Bohemia", and a red eyeshadow ( i used the red from hot topic, but i would suggest something of better quality)
lipstick- a matte red lipstick ( i used powder on top of a lip balm) with gold/red lip gloss over top.
blush- Bobbie Brown's "Sand Pink" and Rimmel's "Pink Rose"
eyeliner- Maybelline's Eye Express in black
mascara- Maybelline's Volume Express in black

(remember, i'm just saying what i used, if you already have liquid eyeliner, and eyeshadows that look like the ones i used use them! don't go buy new stuff unless you have to! you can substitute every brand for another you like better! use colours that flatter you if reds don't look good on you, i'm gonna do this same look in blue's and silvers later.)

step 1- put foundation on your eyes. don't do your whole face first since it'll have eyeshadow all over your cheekbones.
step 2- take your yellow eyeshadow and run it underneath the full length of your eyebrow, from tip to tip.
step 3- use the orange directly under the yellow (you can blend it in a bit). starting from the outer corner of your eye, wing the orange up to wards your temple, mine is about an inch wide, but any thickness that suits your face will work.
step 4- i used an eyeliner brush to draw the shape of the red. start at the inner corner of your eye and go straight up till it almost touches the eyebrow. make sure the red stays above the crease of your lid. fill in the rest of your eyelid with the red. then, take the eyeliner brush and draw on some more fake lashes. the shortest one should aim towards the end of your eyebrow, and everything should get longer from there.
step 5- curl those lashes and put on several coats of mascara.
step 6- whipe up any bits of eyeshadow dust (use some mosituizer if you have to) and put on your foundation. wait for that to dry then put on some blush, i put a darker pink/brown under my cheek bones and a lighter shimmery pink on the apples of my cheeks.
step 7- take a lip brush and paint on a matte red, then sweep on some red/gord lip gloss.