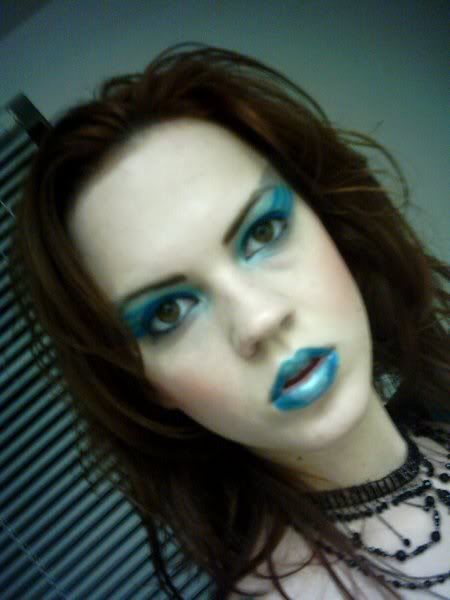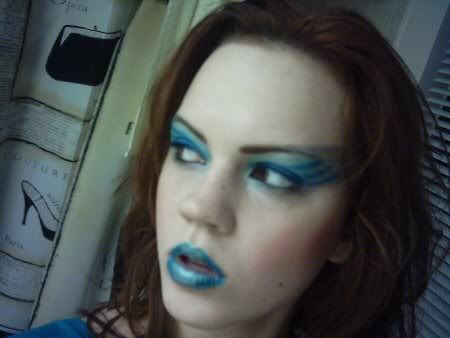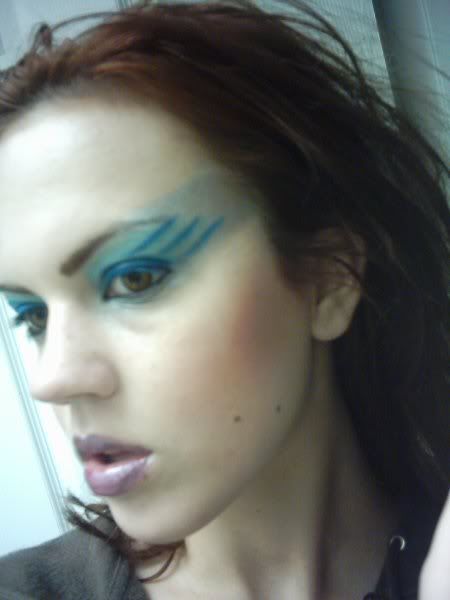 changed the lipstick, still wasn't happy with it..oh well.

hmm, i've been pretty vegas showgirl-ish lately...i'll have to fix that after today! i also noticed, i can't pull off blue lipstick, but if you can, use this look!

foundation- Maybelline "Instant age rewind" in Porcelain Ivory
powder- i used a translucent powder, but anything that matches your skin tone will work.
eye brow pencil- i use Rimmel's "Hazel", but use anything that matches your eyebrow (or not, your choice there!)
eyeshadow- MAC's "

Electric Eel

", MAC's "

Aquadisiac

",

Milani

's

Silver

with a silver. and a fine silver dust ( like a body powder)
lipstick- lip balm and the two blue colours used for your eyes.
blush- Bobbie Brown's "Sand Pink" and Rimmel's "Pink Rose"
eyeliner- Maybelline's Eye Express in black
mascara- Maybelline's Volume Express in black (ok, i didn't use masca in this look, but i should have)



step 1

- fill in your eyebrows only to the arch.


step 2

- put foundation around your eye area and on your lid. cover the part of your eyebrow you didn't fill in with foundation.


step 3

- line the inner rims of your eyes with black


step 4

- take your silver powder and dump some into your silver, i like how this turns out the colour is richer and creamier looking. With an eyeliner brush, draw a sraight like from your arch up to your temple. then, draw a staight line from the outer corner of your eye and dray a staight line out to your temple/hairline. Fill in that box (it goes into your hair line), and put some silver under your eyebrow.


step 5

- take your Aquadisiac (or any light tealish colour) and brush it on almost to the eyebrow, arch it downwards and fill in.


step 6

- take a very rich, royal blue and fill in the crease, don't do above the crease, stay below it. then, with your eyeliner brush (a stiff, staight, angles brush is what i use) draw 3 blue line. the shortest one shoud reach the tip of where your eyebrow would be. the base of that live should hit the middle of your eye. increase the length, keeping an even space between them.


step 7

- whipe off any blue or silver and put on your foundation, let that dry and put on some blush.


step 8

-

blue lips

- you're going to use a lip liner brush, and paint your light teal colour on the lips. then, take the darker blue and fill in the corners. kinda like a pouty lip affect.


lilac lips

- paint your lips Silver and put a pink lip gloss over top.


step 9

(a step i didn't do)- curl your lashes and coat them a few times with mascara.

love!